YouNow "Creator Fund 2 " Explained
Update November, 22
We've run through our initial Creator Fund a bit faster than we thought we would. So we started a new one – Creator Fund 2 – and it's funded through January 31, 2023!
Our new creator fund gives more money for most tiers, and now gives you the option of taking your payout in either Diamonds or Gold Bars. The value of the Gold Bars we are giving in the Creator Fund is significantly higher than what we do in our best sales, and all of these bars will provide your friends with financial support.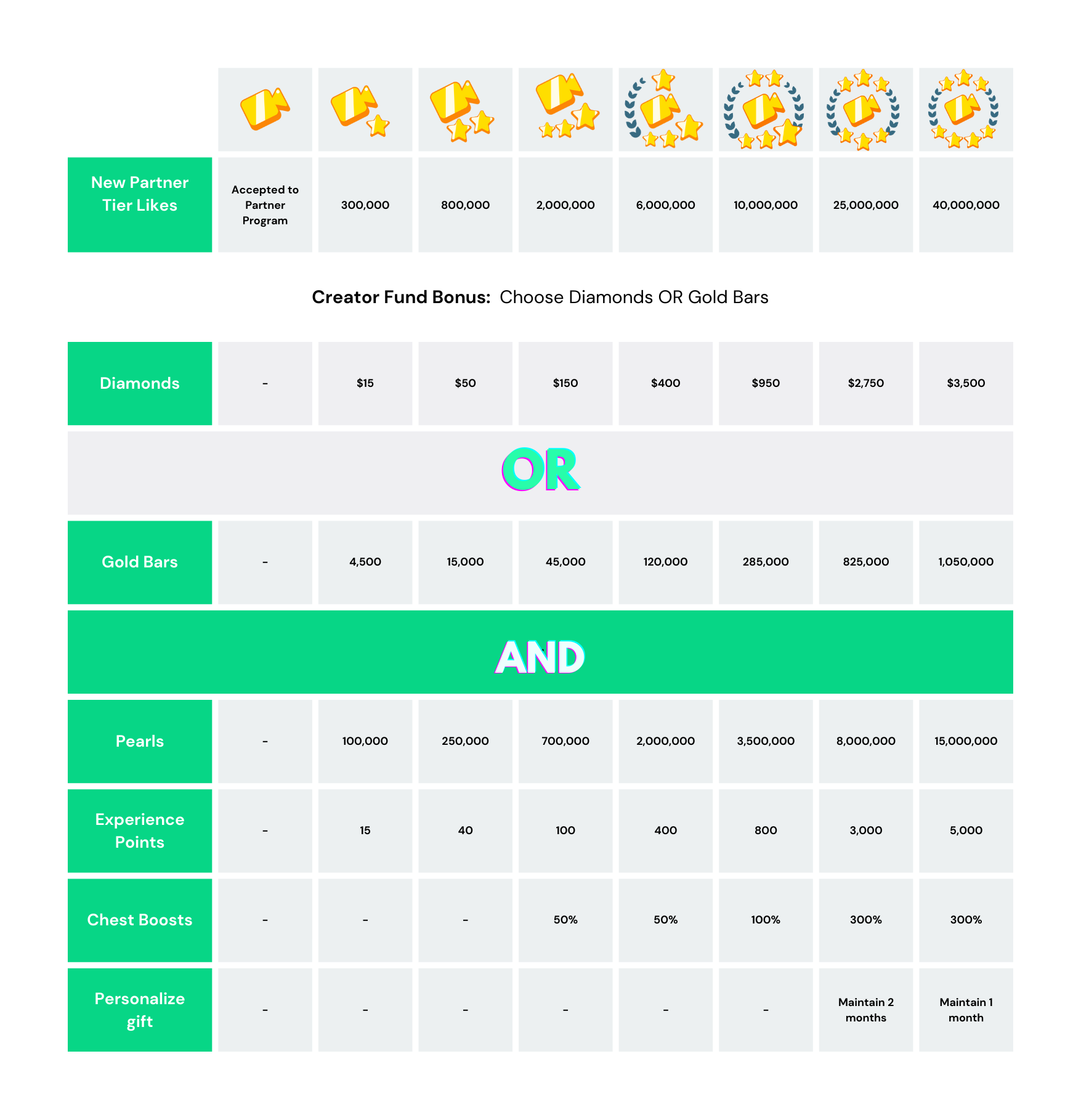 Here is the breakdown of Creator Fund 2:
The value of the Gold Bars we're giving away as part of Creator Fund 2 is 2.3x higher than the value of the Diamonds.
To choose what you want, write your partner or VIP manager by the 10th of the month. If you don't choose, we are going to send you the more valuable option, which is Gold Bars. So if you want Gold Bars, you don't have to do anything.
We are also going to be a little more strict about who gets to be in Creator Fund 2. Namely, if you have gotten a warning from our Trust & Safety team, you're out of the Creator Fund running for at least 3 months. A warning will be emailed to you if you're getting one, and some of the reasons you might get a warning are:
Obvious violations of Trust & Safety, such as getting naked in your stream (which also gets you banned)

Cheating at YouDraw or our other games to stock up on Pearls.

Telling your audience that they should all leave younow and go to some other app (this can cost you your partnership, too)

Threatening violence against another user (again, this might get you banned as well)
"One of the things we wanted to do with this program is be really transparent about how you can earn money through our Creator Fund, which is something that you don't see everywhere," said Jon Brodsky, CEO of YouNow.
YouNow is one of the oldest live streaming video social media platforms, with over 55 million users worldwide. Unlike other major social media services, YouNow has no ads, does not sell user data, and does not have an algorithm that forces the most viral content onto someone's feed. Instead, YouNow's unique gift-giving economy allows YouNow users to earn money from their first broadcast. YouNow's streamers broadcast everything from video games to political commentary to make-up tutorials.